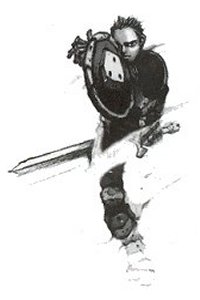 No higher resolution available.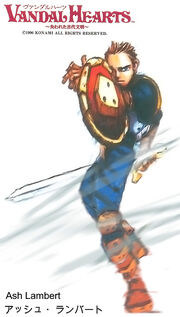 Ash Lambert (アッシュ ・ランバート in japanese katakana) is the main character of the first Vandal Hearts game in the series.
Ash is 24 years old at the beginning of the game, and 25 at the end.
The hero of Vandal Hearts, Ash Lambert is initially a high-ranking member of the Ishtarian Security Forces. Through a series of unfortunate events, he is made the front runner in a fight against political oppression and tyranny. Ash Lambert is the leader of a small splinter of the Ishtarian Security Forces including himself, Clint Pickard and Diego Renault.

Ash Lambert grew up believing he was the son of a traitor. When everyone looked down on him, Clive Beckett helped him for reasons unknown to him. In spite of his deceased father's status, Ash was able to rise to the position of Platoon Leader in the Ishtaria Security Forces.

His skills were so exceptional, his name got the attention of many, including Kane, Defense Minister Hel Spites' son, and commander of the Crimson Guard. Kane's taken it upon himself to consider Ash a rival (and one that needs to be "dealt" with, no less).

In truth, Ash's father was never a traitor. He sought to safeguard the life of Arris the Sage from an assassination attempt, and was labeled a traitor so others could use as a political leverage.

When Ash is sent to investigate the apparent disappearance of General Magnus, one of Ishtaria's most respected and famed war heroes, he uncovers a hidden coup d'etat by Hel Spites and Dolf Crowley and falls victim to the power of the Magic Stone, sending him into Time Limbo.

When he reemerges, he finds himself three years into the future, where Hel rules as an emperor. He leads his allies in an attempt to correct the state of affairs that has befallen Sostegaria. During the course of events, Dolf, the forgotten son of Arris the Sage, pulls his own takeover and assassinates Hel, usurping power for himself.

With his options limited, Ash journeys north in a last ditch effort to obtain some power capable of pacifying the Flames of Judgement. He finds the Vandal Heart, and prepares for his final confrontation to end the madness.
File history
Click on a date/time to view the file as it appeared at that time.